Miranda Summers is a multi-disciplinary artist born in Melbourne and raised in Sussex, England, with a background in both art and theatre production. She worked as a Theatre Prop Maker for London's West End, Opera Houses and Television before moving to Sydney and pursuing a career with Opera Australia. Alongside her theatre career, Miranda is a passionate oil painter exhibiting with several galleries in Australia, showcasing her unique and distinctive style inspired by the Australian landscape. In 2023, she successfully made her artistic debut in London at The Brick Lane Gallery following a Solo exhibition with Grainger Gallery in Australia's Capital Territory.
Miranda lives and has a studio in North Sydney, Australia, her artistic approach combines Impressionism with Contemporary Landscape Painting. Miranda paints on canvas with oil and painting knife. Her artistic approach utilises negative and positive space to create an interplay between foreground and perceived distance. The challenge is to simplify the mark, reduce spatial distance and invite the viewer to engage with the present moment.
Miranda was a finalist in the The Hornsby Art Prize and The Little Things Art Prize in 2022 and her paintings are exhibited at Grainger Gallery in ACT,  Traffic Jam Galleries in Sydney and with Natioanl Emerging Art Prize 2023 NEAP, Sydney, Australia.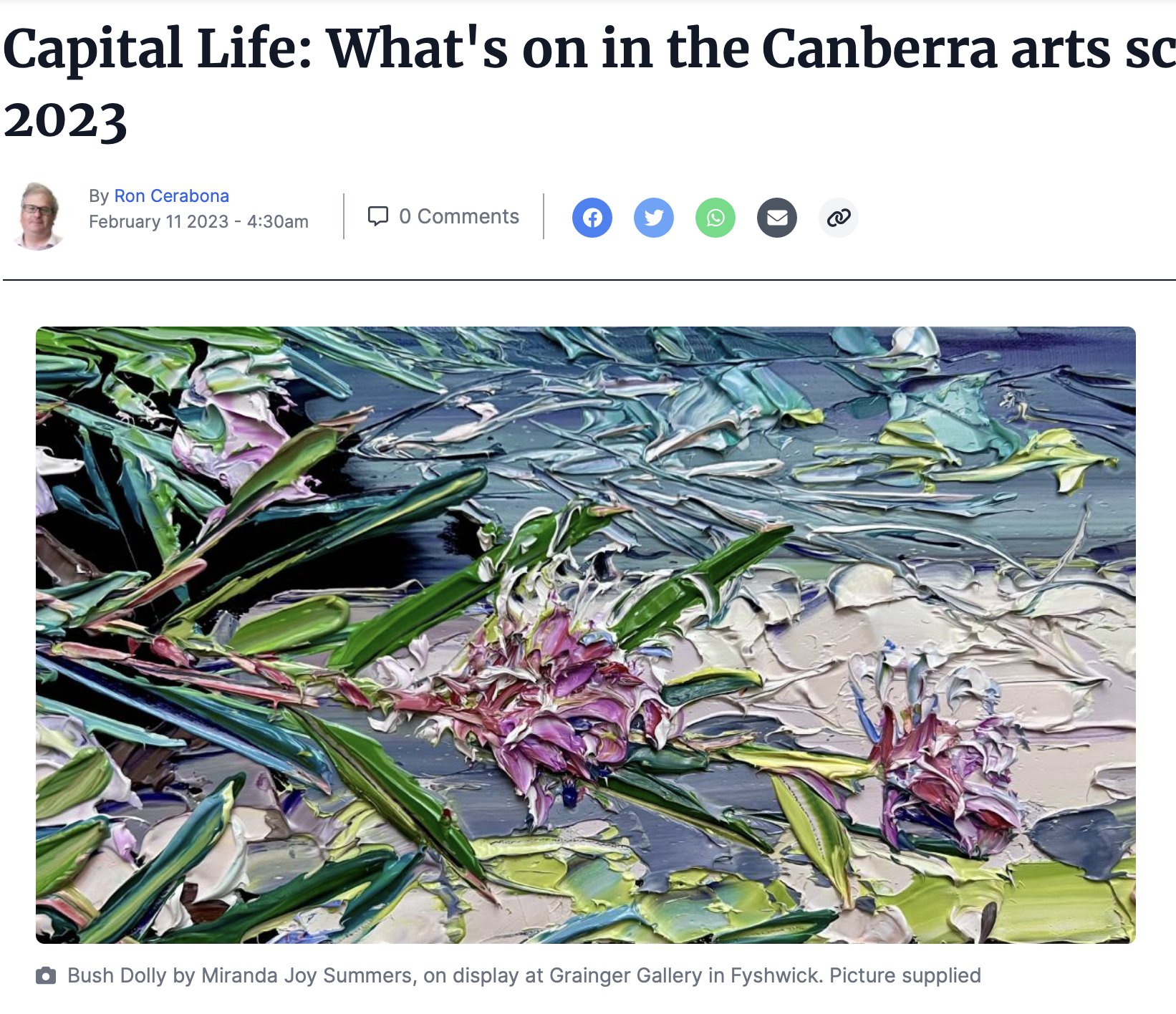 Grevillea Girls
Grainger Gallery in Fyshwick is this exhibition by artist Miranda Joy Summers. It's inspired by thoughts of a 1950s hair salon with rows of pink hairdrying bonnets with ladies sitting and gossiping at high volume over the noise of the dryers as each awaits the reveal of her pink rinse and set. Summers says this narrative was planted as she painted in impasto oil the beautiful full bonnet-shaped petals of the Sydney costal Grevillea. It's on until February 26, 2023. See: graingergallery.com.au.